Kid Rock Calls Upon Blue Ribbon's Owner Josh Stevenson for Fishing Trip
Kid Rock Calls Upon Blue Ribbon's Owner Josh Stevenson for Fishing Trip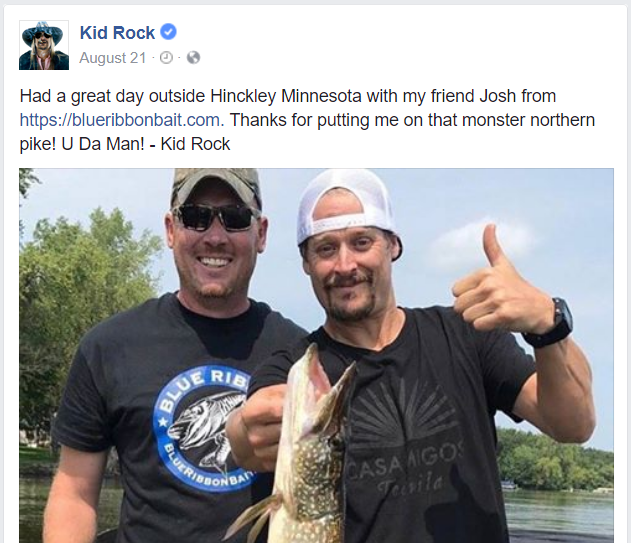 Detroit rocker Kid Rock squeezed in a fishing session after his show at Grand Casino in Hinckley last weekend and before headlining the Iowa State Fair.
Kid Rock played Grand Casino in Hinckley on 8/19/17 and held his private jet off Sunday afternoon so he could get in some fishing with Blue Ribbon Owner & Fishing guide Josh Stevenson before departing for another show in Iowa that night. Josh guided Kid Rock in the Pine City area Sunday morning.
But fishing was slow for the group, which included fellow musician Uncle Kracker.
"They were not biting," Stevenson said in a Sunday evening phone call. He wanted to take Kid Rock to Lake Mille Lacs, but they didn't have enough time.
With the short outing on the Snake River and adjoining Cross Lake just about finished, Stevenson asked Kid Rock if they could try one more spot. The move paid off: Kid Rock caught a northern pike estimated at 8 pounds.
"It was a lot of pressure because they weren't biting," Stevenson said, adding that "Kid Rock was patient and hard-working, persistent."
Josh is available for half-day and full-day guide trips for Musky, Northern Pike, Bass, Walleye & more.
Josh's guiding availability is visible at www.MightyMusky.com
Shop Blue Ribbon's online store
Josh's news interview on Kare11:
Twin Cities Star Tribune article on Josh guiding for Kid Rock
Minnesota Outdoor News article
AM 1500 Radio- The Great Outdoors Interview on 8/23 (Josh begins at 21:08)
Josh's guiding availability is visible at www.MightyMusky.com
Shop Blue Ribbon's online store
Expert shopapps Shop Adds