ESPN Calls Up Blue Ribbon for Ice Fishing Guides
ESPN Calls Up Blue Ribbon for Ice Fishing Guides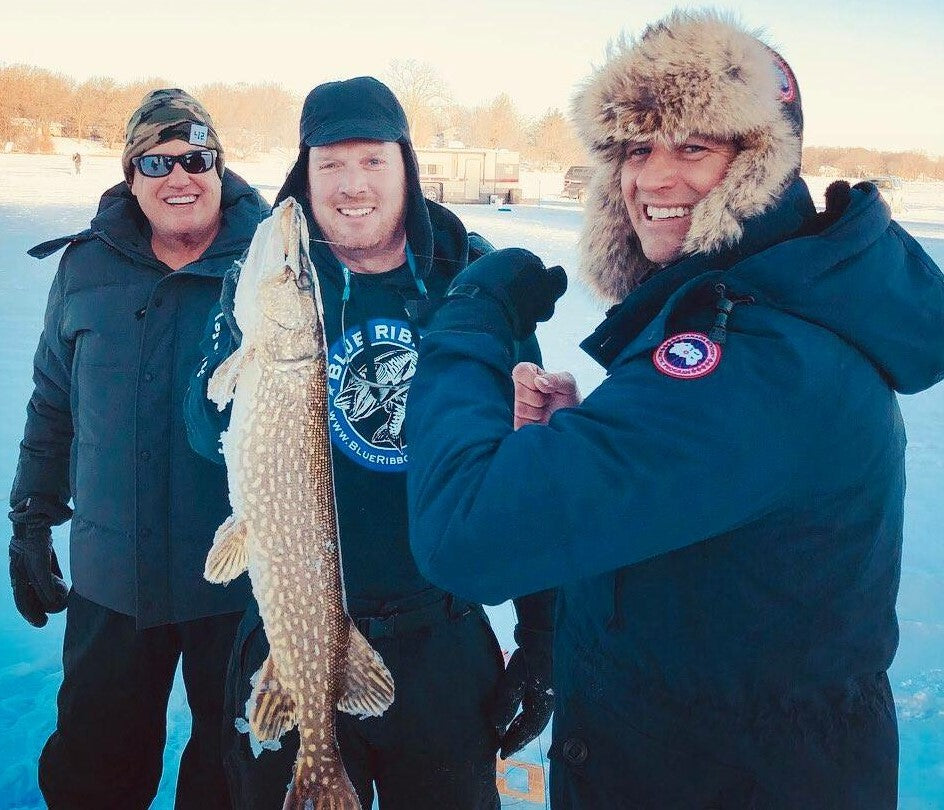 Twin Cities Ice Fishing with ESPN
Knowing that 1 million+ visitors were expected to visit the Twin Cities for the big football game this February, Blue Ribbon Bait & Tackle Owner Josh Stevenson was anticipating even more ice fishing guide trips than usual, but he wasn't expecting this...
"I got a phone call a few weeks ago from someone asking about my guiding availability during the week of the big game. They said they were with ESPN, so I figured it was a corporate team outing. But then they started talking about keeping it quiet, as there was a chance it may involve filming with some of their TV personalities. It was an awesome surprise to learn I'd be on national TV with the hosts from Sunday NFL Countdown!"
We're proud that our very own Josh Stevenson put former Pro QB Matt Hasselbeck & former Pro Head Coach Rex Ryan into some nice ice fishing right here in Minnesota! Check out a highlight video below:
Full NFL Countdown video segment below:
The weather in Minnesota didn't stop @Hasselbeck and Rex Ryan. pic.twitter.com/9b4AhYWblT

— NFL on ESPN (@ESPNNFL) February 2, 2018
When in Minnesota ❄️ 🎣 ❄️ pic.twitter.com/FAuNC6ebaQ

— Matthew Hasselbeck (@Hasselbeck) February 2, 2018
As a fellow ice fisherman... I am wildly impressed with the size of the fish that popped out of @Hasselbeck's icehole. It wasn't "The Minnetonka Miracle", but very impressive https://t.co/iiRio3m4Nu

— Pat McAfee (@PatMcAfeeShow) February 2, 2018
Saturday
Matt Hasselbeck & Rex Ryan weren't the only names Blue Ribbon took out ice fishing this past week. The leadership of Nike wanted a true taste of winter in Minnesota on Saturday, and found great success ice fishing as well! 
Hey Matt I was one day after you. Same lake... same awesome guides! pic.twitter.com/O77QFHr2y7

— John Bapst (@jbapper) February 4, 2018
Want to Fish the Twin Cities?
For anyone in the Twin Cities seeking an opportunity to have incredible days like these on Minnesota's frozen (or thawed) lakes and rivers, make your reservation for the premiere Twin Cities fishing guide right now on www.MightyMusky.com 
Don't forget to support your local family owned business by shopping online at www.BlueRibbonBait.com or stopping by our friendly bait & tackle shop in the Twin Cities in Oakdale, MN. Thank you!
To Cap It All Off
The Nike team that Josh took out on Saturday generously extended an offer for two Super Bowl tickets for him & Blue Ribbon Pro Staffer & Buyer, Travis Hultgren!
Expert shopapps Shop Adds